wireless
Catalogo prodotti
WEL-RSAPC
PC Industriali per sottostazioni d'Energia IEC 61850 RSAPC Rugged Substation Automation PC


IEC 61850 server performance for substations
Rugged Substation Automation PC - RSAPC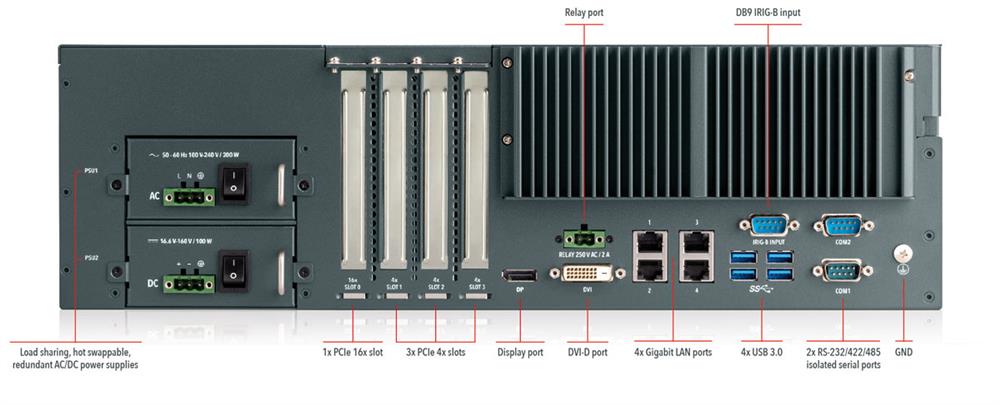 Fanless 19 inch 3U Rackmount HSR/PRP Industrial Computer
IEC 61850-3 and IEEE 1613 compliant for the automation of substations
Intel Xeon Server Processor with 4 cores/eight threads (Kaby Lake, 7th Generation)
High reliability design with redundant AC/DC power supplies, RAID1 and HSR/PRP expansion card
-40 to +70 °C Operating temperature range with integrated heating for reliable cold starts
OnBoard TPM 2.0 Module and Secure Boot for More Cyber Security
1x PCIe x16 plus 3x PCIe x4 Slots
4x Gigabit RJ45 LAN ports + 3x Gigabit SFP with HSR/PRP extension
6x USB 3.0, 2x 2x RS-232/422/485, 1x IRIG-B, 1x Relay Output
DB9 IRIG-B Timing input

German Engineering
The RSAPC was built to bring Server grade performance, reliability and security to the harshest operating environments and meet the stringent certification requirements for substation automation. Assembled and tested in Germany, we ensure quality and performance for each unit.
To enable reliable calculations in demanding industrial and substation applications, the RSAPC offers a highly reliable ECC storage, a wide temperature range, solid-state drives and an effective heat management system with heat pipes for heat dissipation and a heating system that ensures a reliable start at temperatures below zero.
With its high-performance Intel Xeon quadcore/octathread processor, vPro Remote management support and integrated TPM 2.0, the RSAPC offers advanced security and management features on top of silent operation without moving parts.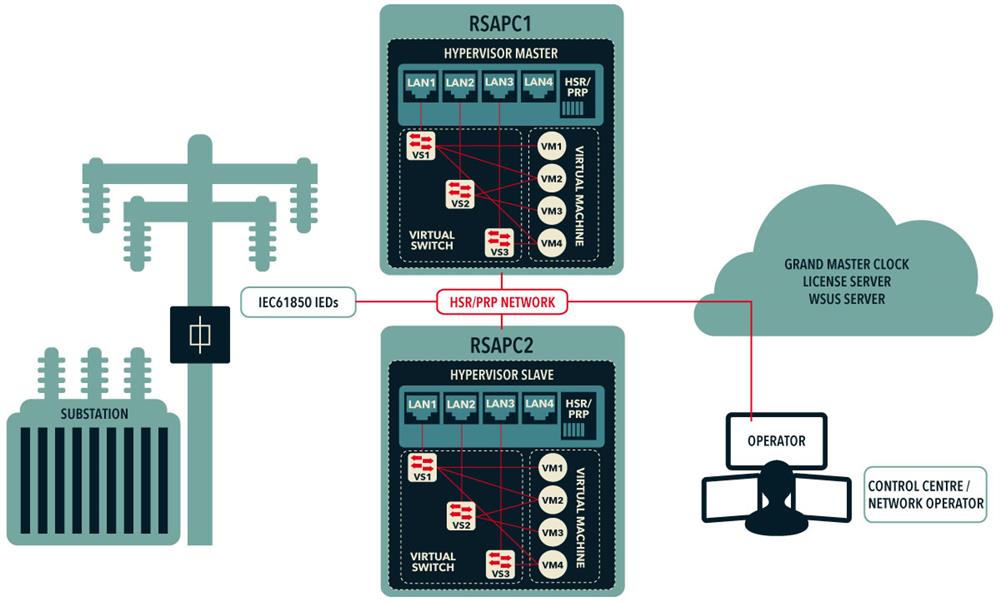 Reliability
Design quality, dependable components and a maintenance free cooling system strive to eliminate critical components, to keep your critical application running.
Eliminating moving parts like fans and conventional spinning hard disc drives removes the most common sources of failure from the Computer system. With its unique thermal management system, the Welotec RSAPC allows to operate in environments with up to 75°C (167°F), due to heat pipes that connect all critical components to generously sized heatsinks, and the electrical heating systems enables reliable boot up behaviour at -40°C (-40°F).

High Availability
Array of solid-state drives to drive availability up to the standards for critical applications. Problems with dust, worn down bearings and failing fans are eliminated by removing all moving parts from the system design.

ECC protected system memory can correct any single bit error in the RSAPCs main memory and prevents flipping bits from crashing core applications or introducing logic errors while controlling critical infrastructure.
For maximum availability, redundant AC and DC power supplies can be combined as required.
•AC power supplies with 90 to 240 V AC
•DC power supplies with 17 to 160 V DC

Maintainability
The RSAPC is easy to maintain in the fi eld, the redundant hot-swap power supply modules and the 2.5" solid state drives can be replaced without shutting the system down. RAM upgrades can be done without opening the main chassis via a small service hatch.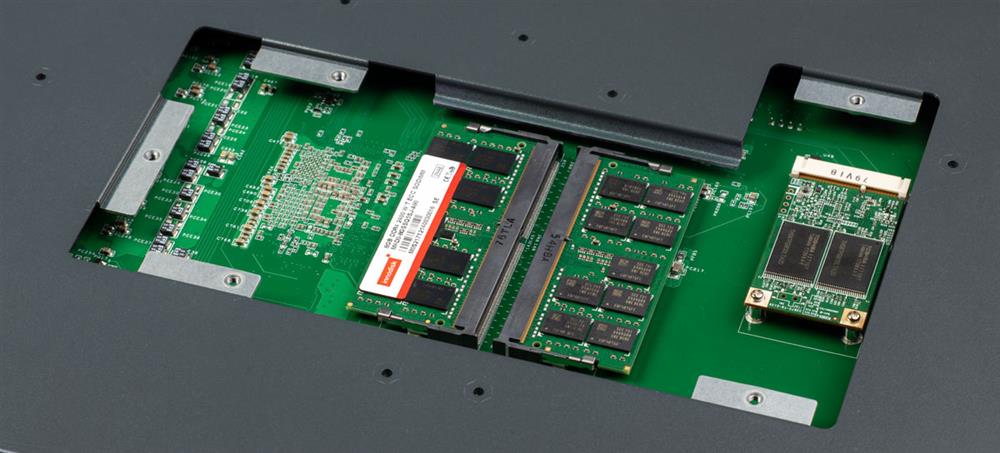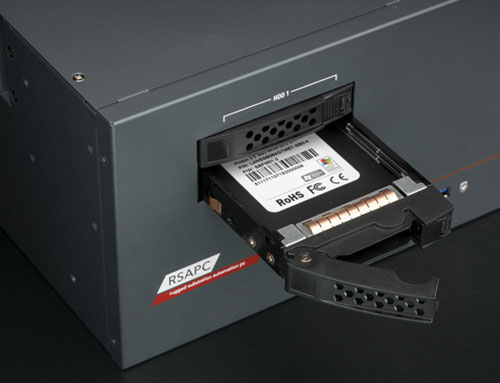 Remote management is available via Intel´s Active Management Technology (iAMT) that allows maintenance, software updates and system diagnostic from afar, even when the RSAPC is powered down. With the integrated KVM-over-IP function all system functions are available, as if the operator is present at the local device.

Fully featured system for maximum utility
The Welotec RSAPC comes with an extended I/O feature set, that includes most commonly used I/O ports in the base system, and hence eliminating the need to use PCIe extension ports for those expansions in most applications. With build in iAMT remote management functions and an on board TPM 2.0 module the RSAPC provides both, modern administration and security tools.
Standard Features
IEC 61850-3 compliant
Fanless 19 inch 3U rackmount industrial pc
-40 to +70 °C operating temperature range with integrated heating
Intel Xeon CPU with four cores/eight threats (Kaby Lake, 7. Generation)
TPM 2.0 module
Two Hot Swap drive bays for 2.5" SSD/HDD
Intel CM238 Chipset with Support for RAID1/RAID0
Load sharing, hot swappable, redundant AC/DC power supplies
4x Gigabit RJ45 LAN ports
4x USB 3.0 (rear), 1x USB 3.0 (front, with KeyLock), 1x USB 3.0 internal for USB dongles
2x RS-232/422/485 isolated serial ports
DB9 IRIG-B timing input
Relay Port
Programable front LED
DVI-D and Display Port for independent digital displays
1x PCIe x16 plus 3x PCIe x4 slots

Customized adaptation - tailored to your application from 1 piece
Build on Intel´s proven Xeon Platform and with its comprehensive feature set the RSAPC can cover a broad range of applications out of the box. Build to order options can adapt the system to other applications by expanding memory, I/O capabilities or increase performance.
Optional Features
Up to 64Gb RAM (PC4-19200)
Industrial grade wide temperature Single Level Cell (SLC) up to 500GB
Industrial grade wide temperature Multi Level Cell (MLC) SSDs up to 2TB
Additional COM ports
Additional LAN ports
Time Aware HSR/PRP PCIe networking card
Virtualisation and Cyber Security
The Welotec RSAPC is designed to implement modern IT structures and realize the most benefit from virtualisation to reduce hardware cost, increase availability and security. With its 64GB of main memory the RSAPC can run several virtual machines while assigning each of them the resources of a standalone system.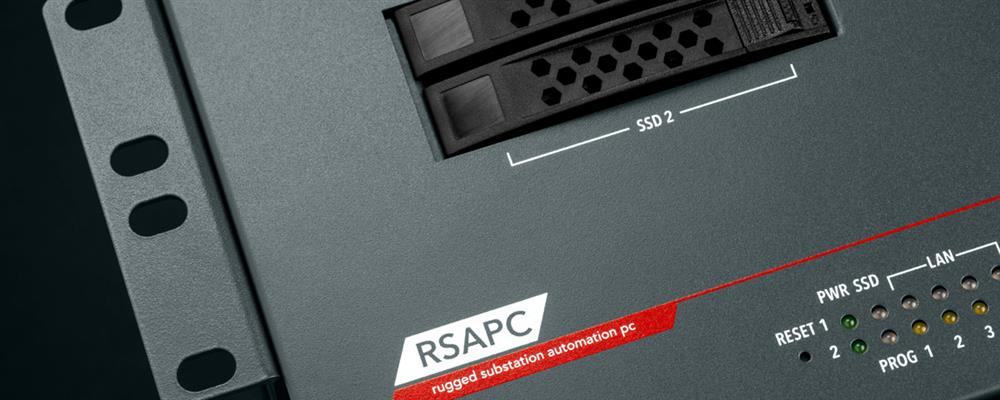 Isolating applications
Virtualisation allows for each application to run in its own virtual machine (VM) and thereby isolate tasks from each other. Rebooting a VM after an update does only affect the function being updated as all other VMs can remain online and running.
Sustained use of software investments
Industrial applications often entail using custom made or older software, whose operating system has become obsolete and is not supported by new hardware. Virtualisation offers a way out by simulating legacy hardware. The RSAPC is designed with this use case in mind. To allow legacy software that requires a USB dongle it come with an internal USB dongle slot.
Cyber security
Current changes in the legal environment, like the European Network and Information Security directive and common-sense demand to protect critical infrastructure against malicious and accidental infections as well as against deliberate hacking attempts. The RSAPC with its sever grade resources allows to use an industrial Intrusion Detection System in a virtual machine without increasing hardware outlay.
Cost reduction
In critical applications, customers expect redundancy and the ability to absorb the failure of a single device. Virtualization allows multiple applications to be redundantly designed and isolated from each other without requiring more than two RSAPCs.
Due to its high computing power, which supports up to 64GB RAM, one RSAPC can replace up to four previous generation systems in terms of performance and memory.
Performance comparison of common CPUs in the substation environment
RSAPC
Intel Xeon E3-1505L v6 @ 2.20GHz
Intel Core i7-4650U @ 1.70GHz
Intel Core i7-3555LE @ 2.50GHz
Intel Core i3-3217UE @ 1.60GHz
Intel Celeron 2980U @ 1.60GHz
CPU Class
Server
Laptop
Laptop
Laptop
Laptop
CPU PassMark
7887
3966
3966
2162
1593
Clockspeed
2.2 GHz
1.7 GHz
2.5 GHz
1.6 GHz
1.6 GHz
Turbo Speed
Up to 3.0 GHz
Up to 3.3 GHz
Up to 3.2 GHz
Not supported
Not supported
RAM max.
64 GB
16 GB
16 GB
16 GB
16 GB
ECC Support
Yes
No
Yes
Yes
No
Amount of Physical Cores
4 Cores / 8 Threats
2 Cores / 4 Threats
2 Cores / 4 Threats
2 Cores / 4 Threats
2 Cores
est. EOL Date
2032
2021
2020
2020
2021
Single Thread Rating
1726
1696
1547
703
933