wind assessment
Catalogue
Applications
21.09.2022 | RailBox : unrivalled performances & functionalities thanks to 802.11ac
ACKSYS Communications & Systems announces the release of RailBox, the first 802.11ac multifunction access point designed for railway applications. This device with ultra-compact design is ideal for high density environments.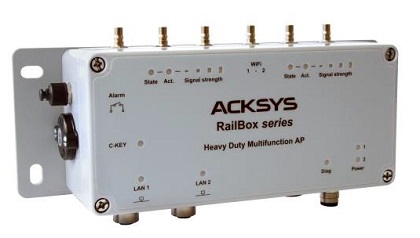 Thanks to 802.11ac, RailBox guarantees exceptionally fast and ultra-reliable wireless performances in railway equipment (trains, subways, trams), while ensuring compatibility with existing WiFi devices.
Single or dual-radio 802.11a/b/g/n/ac, RailBox offers MIMO technology (3T3R) for radio bit rates up to 2 x 1.3 Gbps, ensuring high-performance data loading/offloading and video streaming.
Configurable as access point, bridge, repeater or router, it can be used by system integrators and railway vehicle manufacturers seeking to establish a high-availability link for:
Uninterrupted train-to-ground communications thanks to a <30ms roaming between APs allowing error-free communications and a redundant train-to-ground wireless link for a continuous communication even in case of one device failure,
High-speed carriage coupling (SRCC*) : useful in fleet renovation (poor quality or aging connectors), it allows an automatic car reassembly when the train composition changes and provides a reliable and high-speed on-board network,
In-car radio coverage : thanks to a multi-core CPU architecture, RailBox can carry a large traffic of data at very high-speed and is therefore very well suited for high-density deployments (up to 125 clients per radio).
RailBox integrates SRCC* technology (*automated mechanism allowing for the creation of a redundant wireless Ethernet backbone, guaranteeing a perfect architecture robustness) ensuring the maximum system reliability and uninterrupted connectivity of broadband services on board. In addition, for daisy chain network topologies, ACKSYS also offers an optional Ethernet bypass, allowing the redirection of network traffic in case of device or power supply failure.
A removable key (C-KEY) allows the device configuration backup. It can thus be instantaneously restored on site in less than 2 minutes in case of maintenance or replacement of a RailBox.
RailBox is in the form of an ultra-compact housing mounted on a fixing plate, thus simplifying installation in exiguous environment. Its rugged design and hardened M12 connectors meet the environment highest demands (shock and vibration proof, EN50155, EN50121-2-3). Waterproof (IP66) and equipped with a protective vent it resists to dust, water splashes, condensation and pressure variations and can operate from -40°C to +70°C.
For more information, click here